Enjoy a Faster and more Secure system with our Apple Mac Upgrade Service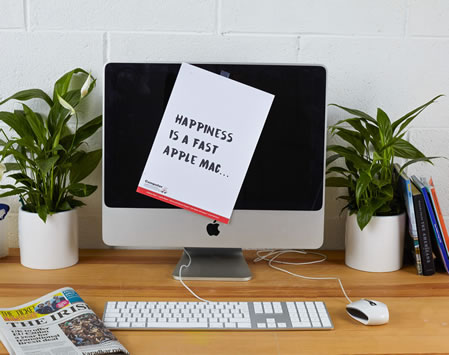 If you notice your iMac, Mac Mini or MacBook Pro running slowly, your system might benefit from a solid-state drive (SSD) or RAM (memory) upgrade.
Typical symptoms of a slow iMac include slow boot-up times and applications running slowly or freezing. These problems are often accompanied by a "spinning beachball" appearing on your screen.
RAM (Memory) upgrades
We offer memory (RAM) upgrades of 4GB, 8GB, 16GB and 32GB. Additional memory will make your Mac run faster without those annoying beachballs!
Enjoy Blisteringly Fast Speeds with our SSD Upgrades Service
We also offer an SSD upgrade service for your iMac or MacBook Pro. We can professionally install the best quality Samsung, WD and Toshiba S-ATA SSD disks for your system. These are available in capacities of 240GB, 480GB, 1TB and 2TB. As part of our SSD upgrade service, we also transfer your old programs and data onto your new SSD. An SSD upgrade will breath new life into your iMac or Macbook.
Operating System (OS) upgrades
To enjoy the latest applications on your Mac, you often need to run the latest Apple operating system. We can install macOS Mojave on your system enabling you to enjoy the latest macOS experience.
We upgrade iMac models such as 21.5" late-2013 (2742) and (2742). 27" iMac late 2013 (2639) iMac 21.5" mid-2014 (2805) and iMac late 21.5" 2015 (2889).
Read our outstanding 5-star testimonials on Google Reviews.
We operate our Apple technician call-out service to most areas of Dublin including Booterstown, Sandymount, Ballsbridge, Donnybrook, Blackrock, Clonskeagh, Monkstown, Glenageary, Mount Merrion, Stillorgan, Rathgar and Terenure. In Dublin (North) we serve Glasnevin, Santry, Ballymun, Clontarf, Raheny and Malahide.