Repair Windows 7, 8, 8.1 and Windows 10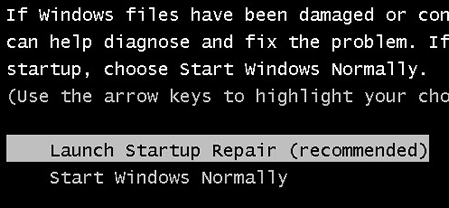 We repair all versions of Windows operating systems, including Windows XP, Vista, Windows 7 & 8.
We fix a number of common Windows Start-Up problems, including when:
Windows 7 or 8 will not start

Your Windows or Mac computer will not turn on

Windows 7 or 8 loading gets stuck at the Microsoft logo

Windows loading gets stuck at the manufacturer's logo (eg Dell, Toshiba, HP, etc)

Windows 7 or 8 loading gets stuck in a reboot loop

The "Windows is loading files" screen freezes

Your PC or laptop gets stuck at the "Starting Windows" screen

Windows halts at the manufacturer's logo (eg Dell, HP, Toshiba, etc)

Windows boots up to a Blue Screen

Windows System Recovery will not complete

You get "Disk Boot Failure" or "Operating System is Missing" error messages

Start up problems due to hard disk failure
We perform operating system repair on most makes of laptop, desktop and all-in-one computers, including:
Dell (Dimension, Vostro, Latitude, Optiplex and XPS)

Lenovo (ThinkCentre, Thinkpad, etc)

Toshiba (Satellite, Tecra, Protege)

HP desktops and laptops

Samsung operating system repair

Asus operating system repair
My computer won't start up, it seems to be stuck in a loop. What should I do?
Disconnect any peripheral devices, such as printers or external hard drives, that might be attached to your system.
Try starting your system using Last Known Good Configuration. To access this mode, press F8 as your computer is starting. This will revert your computer back to a state when it was working properly.
Try starting your system in Safe Mode, when only basic drivers and services are loaded. This can help you to isolate a problem better.
Windows Start-up Repair cannot fix the problem. All I get is a message saying: "Windows cannot repair this computer automatically". How do I fix this?
It is possible that your Boot Configuration Data has become corrupt. To repair this:
1) Insert your Windows DVD into your system. Configure your system so that it is set to boot from your CD / DVD ROM drive.
2) Now, depending on your version of Windows, you will need to select System Recovery Options or Advanced Start-Up Options (Windows 8).
3) Select Command Prompt and type "Bootrec.exe" followed by ENTER.
4) If this does not work, try rebuilding the Boot Configuration Data by typing
"bootrec /RebuildBcd".
My Windows 7 Freezes at the "Starting Windows" screen.
Try unplugging all peripherals, such as external hard drives, USB memory sticks and printers, from your computer.
Try starting your computer in Safe Mode. (Hit the F8 button repeatedly when your PC is starting up.) If this work, uninstall the most recent application or program you installed.
Try starting your PC using a cold start. Disconnect your PC from the mains power for one hour. If there is an overheating problem, sometimes this will give your PC enough time to cool down.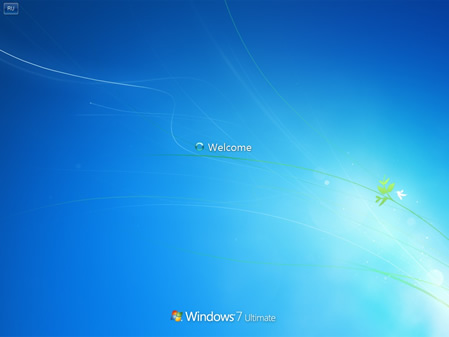 My Windows 7 freezes at the Welcome Screen.
First of all, you should try using Start-Up Repair. To access this option, you will need to boot from your Windows 7 Installation DVD.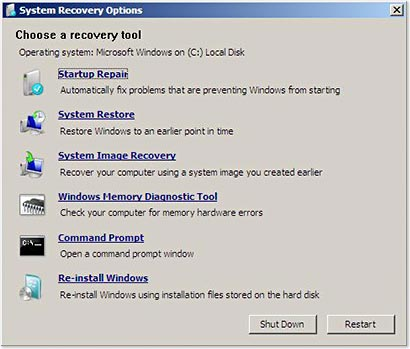 If Start-up Repair is unsuccessful in fixing the problem, you can try booting your computer, using what is known as a "clean boot" to find which application is causing the problem.
1. Start your computer in Safe Mode.
2. Click Start in the Start Search box, type "msconfig" and then press ENTER.
3. On the General tab, click Selective Start-up.
4. Under Selective Startup, click to clear the Load Start-up Items check box.
5. Click the Services tab, click to select the Hide All Microsoft Services check box, and then click Disable All.
6. Click OK.
7. When prompted, click on Restart.
When I turn on my laptop, Windows 8 freezes at the "Please Wait" screen.
When I start Windows 8, I get the error message, "The User Profile Service failed the sign-in. User profile cannot be loaded".
This error message is usually indicative of a corrupt user profile. To fix this, your Windows registry will have to be edited. Please contact us today and our technicians can help you to quickly resolve this problem.
My Windows (7 or 8) on my laptop keeps on freezing randomly. What should I do?
When Windows starts to freeze during use, it can be very frustrating. However,
there are a number of factors that can contribute to these freezing problems.
Common causes include:
Runaway Processes – system file or application processes (typically .exe files) which begin to use more CPU cycles than allowed. When a process starts to "hog" the CPU of your computer, all other programs that are trying to run normally will start slowing down.
Defective RAM – RAM (commonly known as memory) can become corrupted or unseated from it's slot and cause intermittent freezing of your PC. RAM replacement or reseating of the modules can fix this problem.
Overheating CPU or GPU – Die-attach failure of your CPU or GPU chip can sometimes cause overheating. When either of these two ICs (integrated circuits) start to overheat, your PC will freeze randomly.
Failing Hard Disk – Another cause of Windows freezing randomly is a failing hard disk. If a hard drive's sectors or read/write heads are going bad, or there are extensive bad sectors, your computer will start to freeze randomly.
Top 10 Things to check if your Windows is Freezing or Crashing
1) Use your security software to run a scan for viruses, malware, trojans and root-kits. These can all cause your PC or laptop to slow down.
2) Disable your Anti-Virus or Firewall Software temporarily to see if the freezing or crashing continues when these applications have been turned off.
3) Make sure that your graphics card driver is up-to-date.
4) Check your hard disk for errors.
5) Check your system's Event Viewer for any re-occurring errors.
6) Update your system's BIOS so that it is using the latest version. BIOS updates can be usually found on your manufacturer's website. (Please note, flashing your system BIOS always carries a risk that you could "brick" your system, so proceed with caution.)
7) Check your system's CPU and GPU temperature. Overheating components on your motherboard sometimes causes frequent system freezes or crashes.
8) Sometimes, Windows does not fully recover from being in Sleep or Hibernate mode.
Disabling Sleep or Hibernate within Windows can sometimes solve this problem.
9) Do not rule out hardware peripherals, such as printers, wireless mice, keyboards, etc, as potential causes of your Windows freezing or crashing problem.
10) If your computer is connected to a network, sometimes Windows network components will cause Windows to freeze or crash. To eliminate these as the cause of the problem, temporarily disconnect your system from the network.
My Windows Explorer keeps on crashing. How can I fix it?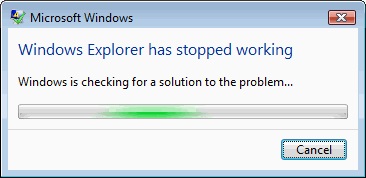 Run Check Disk to do this, then press the Windows key + R. When the box pops up, type in "chkdsk /f".

Try disabling the Preview Pane in Windows Explorer to see if that eliminates the problem. When in Windows Explorer, go to Organize > Layout > Preview Pane

Disable Data Execute Prevention (DEP) temporarily.
When I start Windows 7, I get the "Bootmgr is missing" error message. How do I fix this?

Set your computer's BIOS to boot from DVD.

Using your Windows Installation DVD, boot to the System Recovery Options screen.

Click on Startup Repair, which will now run. If it is unsuccessful in solving your problem, proceed to step 4.

If Startup Repair cannot fix the issue, return to the System Recovery Options screen and this time select the Command Prompt option.

After the C:\ prompt, type the following, pressing Enter after each line:
bootrec /Fixmbr
bootrec /Fixboot
bootrect /Rebuildbcd
Windows starts with only a black screen as a background and a cursor. What should I do?
This can be very daunting for the user, as no error message appears and no indication of the problem is displayed.
Do not fret. There are some fixes that you can implement to help you fix the problem.
Windows Black Screen Fix # 1
Sometimes this issue is caused by a corrupt Winlogon registry entry. To fix this:
Start the Task Manager. Then go to File, followed by Run. In the Run box type "explorer.exe", followed by OK. Then go to Regedit and navigate to:
HKEY_LOCAL_MACHINE\SOFTWARE\Microsoft\Windows NT\CurrentVersion\Winlogon
Select the WinLogon key and then click on Shell in the right pan. Make sure that the Value data field is populated with "explorer.exe".
Windows Black Screen Fix # 2
Graphics card problems can also be the cause this problem, and uninstalling and reinstalling your graphics card driver can sometimes solve it.
Start your Task Manager, select the Processes tab, click on explorer.exe and then click End Process.
Now go to File and click on New Task. In the open text folder, enter explorer.exe and click ok.
Go to the Start button and type "device manager" in the search box. In the search results, click on Device Manager.
Next, navigate to Display Adaptors. Click on the + sign. Now you should see your model of the graphics card appear e.g. ATI Mobility Radeon HD 4570. Right click on it and select Uninstall. Now reboot your computer.
In a lot of cases, your graphics card will be re-installed when you reboot your system and the problem will be fixed.
I have tried using all of the options in Windows System Recovery to repair my operating system, but to no avail. Why hasn't this worked?
Windows System Recovery will not be able to repair all Windows problems. Sometimes, the operating system will be so badly corrupted, the recovery options will be unable to fix your system. In other instances, if your computer has an underlying hardware problem (s), the Windows System Recovery will fail to repair your system.
My Windows 7 / 8 system is very slow to shut down?
Waiting for your Windows 7 or Windows 8 system to shut down can be a time-consuming experience. The internet is brimming with quick fixes and third-party "patches" that promise to speed-up the Windows 8 shut down process. But tread very carefully here, most of these tips involve modifying your operating system's registry. When a computer is given the shut down command, your system will often perform a lot of vital "house cleaning" to make sure that it's running applications and services can be closed in an orderly fashion. Trying to modify this process, which is inherent to the operating system's design, can have unexpected side effects. So you will sometimes just have to wait the two or three minute it takes for your system to gracefully shut down. However, if your system takes more than this, a corrupted third-party application, such as Norton or AVG anti-virus, could be the cause.
My Windows desktop computer won't turn on. Nothing happens after I press the power button. How can I fix this?
This sounds like a motherboard issue or a PSU (power supply issue). You will need a computer technician to check it out.